Sublimated Two-Button Jersey – Warriors Style
SPECIAL PROMOTION:
*** Place your order today to get this best deal:
(This offer will be expired on 07/31/2020, minimum: 10 jerseys or uniforms)
FREE shipping (total invoice over $300)
FREE personalized at no additional cost 
DESCRIPTION
The jersey includes:
Full dye sublimated jersey with team name, numbers, and extra logos ($5 extra to upgrade to team name and number in tackle twill)
2 Buttons
Why Queen Sportswear?
Free shipping (total invoice over $300)
Minimum order: 10 jerseys
Turn around time: 2 – 3 weeks
Rush order: 7-10 days
Material: 
Moisture Wicking Material
Twice-reinforced seams
Comfortable Fitting
LAYOUT FOR TEAM NAME
LETTER AND NUMBER FONTS FOR TEAM NAME, NUMBER AND PLAYER NAME
SIZE CHART
Size chart Baseball/Softball

Step 1: Measure yourself

Step 2: Find your size
Our size chart is based on body measurement; choose the size by looking at our size chart. For baseball uniform, our factory typically adds 2-4 inches to the specified measurements, especially for our loose-fitting uniforms. But you only need your actual body measurement to figure out your size.  For example, if your youth boy player's chest size is 27-30 inches, you would just order a size YM, but expect the jersey chest measurement to be 31-34 inches because again we add 2-4 inches to our football uniform for loose fitting so they are not tight fitting.
PAY ATTENTION: Because all uniforms are hand sewn so please accept +/-1 inch allowance on each size compares to actual uniforms 
Size chart Baseball (for MALE)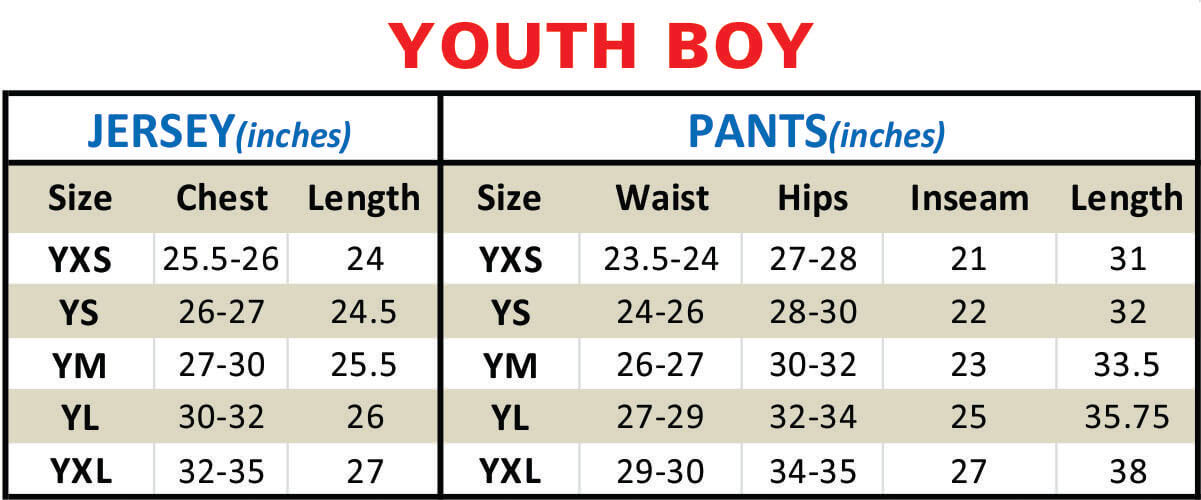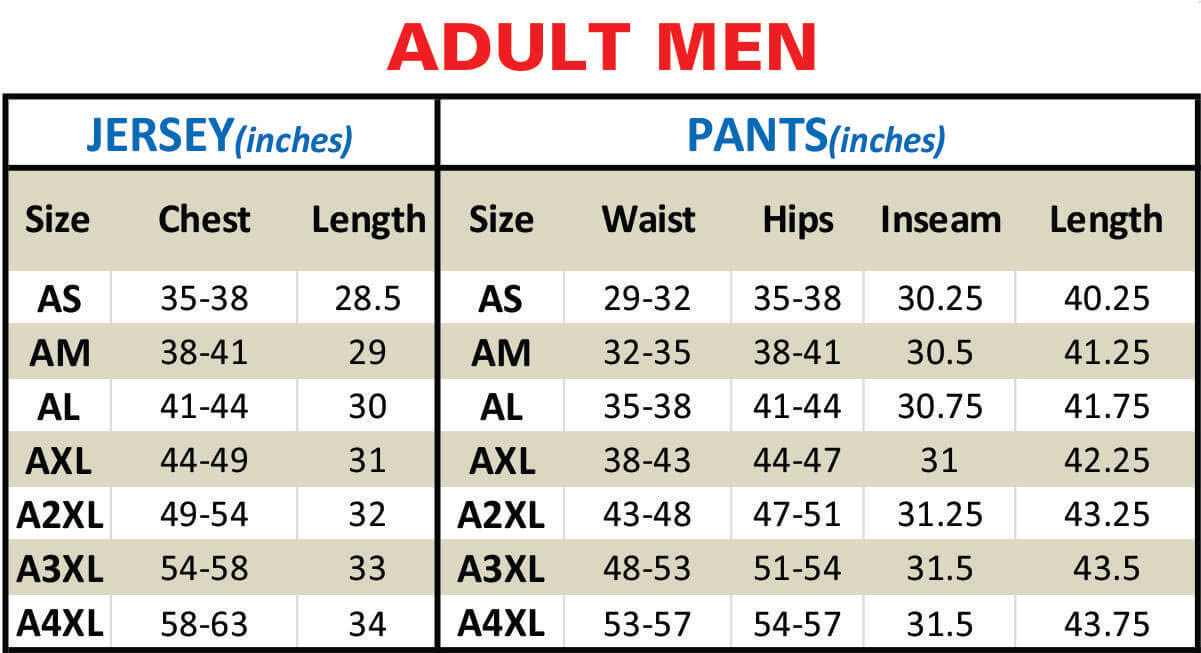 Size chart Softball (for FEMALE)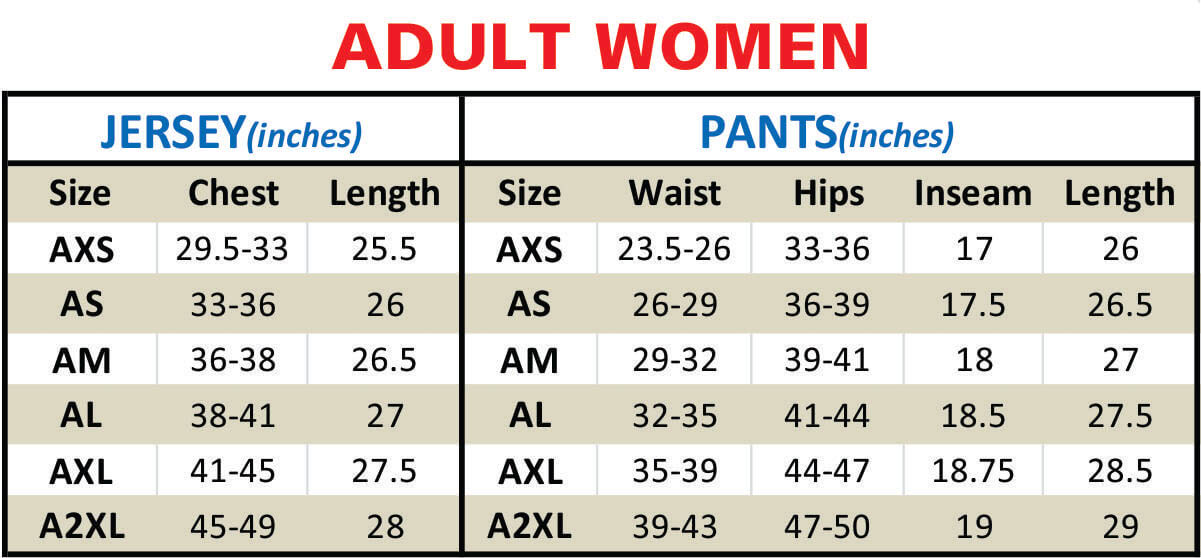 FAQ
Factory Direct Pricing:
When you order from Queen Sportswear you're dealing directly with the factory, and that is a huge advantage for you and your team. Why? Because Queen Sportswear owns and operates its own manufacturing facility we have 100% control of the entire process. We cut out the middlemen (and there are several middlemen when you order through your local guy or local sporting goods company) and pass on that savings to you. Plus, because you are ordering factory direct … the larger your order the more you save!
As manufacturers, we can assure you that your fully customized uniform order will be done right and on time…every time
Live Customer Service Monday – Friday 8am – 5pm PST
At Queen Sportswear YOU'RE THE BOSS! That's right … We work for you. And because we're dedicated to giving our customers world class customer service our professional uniform consultants are available Monday through Friday 8am – 5pm or you can also email us your questions or inquiry via email at info@queensportswear.com, we're here to serve your uniform, athletic apparel, and equipment needs. And if that's not superior enough … Our customer service is world class and it is always our job to exceed your expectations.
*** What are the steps to placing my order?
Please click here Queen Sportswear how to order to see our procedures on how to place an order
*** What is the difference between Tackle Twill and Dye Sublimated Uniform?
  – Tackle twill, or stitched, it involves sewing down a number or letter. The advantage of tackle twill is it offers a more authentic and bolder look to your uniform, much like embroidery.
– Dye Sublimation, on the other hand is a traditional printing method in which a printer uses heat to transfer dye directly into the desired uniform. Sublimation applies the pigment directly into the material in a vibrant and colorfast way. One of the biggest advantages of sublimation is it does not fade or chip and if you had a very elaborate logo like a massive bulldog for example, then this process makes it very easy to make a bold statement on your uniform.
*** How to receive your free graphic design?
After you submit a BUY NOW or CONTACT US or a REQUEST FOR A FREE GRAPHIC DESIGN via our website, we will send your free mockup/graphic design within 24 hours via email.  Or if you created your own design through our design your own tool,  you can view your mockup/graphic design through our website queensportswear.com.  Or feel free to email our at info@queensportswear.com to check the status of your free graphic design/mockup.
*** What is the material of the uniform?
Please check the description of each item in our website queensportswear.com for more details or contact our customer support at info@queensportswear.com
*** Can we create a custom design for our team?
Yes, you can visit our website to choose the style of uniform and submit a BUY NOW or CONTACT US or a REQUEST FOR A FREE GRAPHIC DESIGN via online. Or email us any design you like at info@queensportswear.com
*** Can I check the status of my order?
Absolutely, you can email us at info@queensportswear.com to check the status of your order.  After we have shipped your uniforms, we will provide you with the tracking information. Please visit the shipping carriers listed to track your order (UPS, USPS)
*** Do you have a Size Chart?
We have updated our size chart.  Please review our size chart online Queensportswear Size Chart thoroughly. We also offer sizing kits and stock samples of our uniforms if you would like to see how well it fits and feel the overall quality and look of our product(s). The samples can be ordered at  Queen Sportswear Sample Kits  Queen Sportswear will not be held accountable for wrong sizes once the customer has submitted the sizes for their order(s) and confirmed the Order Detail.
*** Can I request a sample of my actual order?
Yes, we can make one sample of your final design. If you order your own customized sample, we will apply the 100% refund for the cost of the sample towards your next invoice, when you place the whole order.  (7-10 day turnaround time )
*** How long will it take for my order to be processed and/or turnaround time?
Our Standard Processing time is 2-3 weeks and our Rush Processing is 7-10 business days from when full payment is received and when the Order Detail has been confirmed by customer. Please see our Processing Time policy in our Terms and Conditions for more information
*** Do you charge for shipping?
– We offer FREE shipping for all orders, minimum of 10 per order.  For additional "add-on orders" less than 5 please see chart below. Standard processing 2 weeks for additional add-on orders
– Rush Processing:  7-10 business days – 15% fee of total invoice or $30 under $200
*** Can I add more uniforms later on if we have extra players?
Queen Sportswear will gladly manufacture additional "add-on" uniforms in your style. Additional uniform orders will be billed at the appropriate price for the quantity ordered. Prices may change or vary. We cannot guarantee 100% that the colors between the new and existing order will match.  Please see our Additional Add-on Uniform policy in our Terms and Conditions for further details
*** Can you color match our existing uniforms?
Queen Sportswear will make its best effort to match, but an exact match is often not possible. Fabric materials and colors, each company has different materials and color tones. All materials fade (or darken) over time and some materials are simply no longer available, so an exact match is impossible – or very expensive as it would involve custom.  Please see our color chart online at Queen Sportswear. We will not be held responsible for mismatch color(s) of your uniform(s)
*** What are your payment methods?
We accept VISA, MASTER CARD, AMERICAN EXPRESS, PayPal. Please refer to our Accepted Forms of Payments under our Terms and Conditions for further details
100% OFF ON ACTUAL SAMPLE
1. 100% off on custom actual uniform sample of your own design: (1 UNIFORM PER ORDER ONLY)
TURNAROUND TIME:  7 – 10 BUSINESS  DAYS
At Queen Sportswear, We are confident that when you see the quality of our uniform with your design, you will almost surely place the order with us. And we are the only company that can make one actual uniform sample of your own design so you can see the quality of you will get before place the order for the whole team.
– You will pay for the cost of your uniforms.
– We will refund 100% the cost of the actual uniform sample when you place the order for the whole team.
– When you place the order for the actual uniform sample, we do recommend you to order the size and the number of one of your players so you don't have to order his uniform again later.
2. In Stock Sample:
If you need a sample to check our quality, we will send you the sample we have in stock for $25 and $15 shipping fee for each sample. After you get it, you can return it back to us and we will refund your full money back, it is $25 (NOT REFUND shipping fee). To order the sample, please click on the Buy Now button below.
7-10 DAY FILL-IN
At Queen Sportswear, we understand the need to expedite uniforms for your players. Taking care in our clients' satisfaction, we offer superior turnaround times for fill-in orders, which take as little as 7 to 10 days – in addition to free shipping and no re-setup costs to you. Adding more uniforms for your extra players is hassle-free with our service.
While fabric dye lots in the garment industry change several times monthly, and subsequent batches of the fabric are modeled from similar pigments, at times individual batches will have slightly different hues when closely examined. Despite this fact of our industry, Queen Sportswear has a dedication to customer satisfaction, and we will do our best to ensure your new colors are as close to the original order as possible. We make our clients aware that 100% color matches are not guaranteed. However, we remain committed to your satisfaction with a dedicated attention to service and quality.
With dye sublimation uniforms, we will do our best to match the color of your original order, with only minor shading differences should your orders occur at different times. Our transparent practice is key to our customer service— and small differences in color are the result of ink and fabric variations from our suppliers.
It is with our clients' best interest in mind that we strongly suggest all customers place orders for extra uniforms along with their original order.
Additional information
| | |
| --- | --- |
| Color | black, Camo, light pink |
Related Products
$

28.99

Rated 4.00 out of 5